Welcome to the Medieval World!
I have always loved horses, but over the last decade my interest has developed into an appreciation of the many varied uses and decorations of the medieval horse. Combine this with my other loves of leatherworking and sewing, and I have developed a portfolio of numerous projects that I would like to share with you.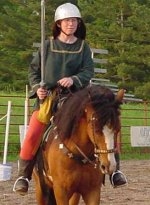 As an active member of the Society for Creative Anachronism, I have also included some tips for fellow equestrian riders, as well as a section with some of my human clothing projects. One of the goals of the SCA is education, and it is much more interesting to learn by doing. If you would like to find out more about people having fun with the middle ages, that time period in Europe from 600AD to the 1600AD, here's a link to check out: www.sca.org .
Enjoy!
Anna
If you live in the Wisconsin counties of Taylor, Price, or Lincoln, click here to find out more about Das Pferde Hall, a local medieval group.
Disclaimer: This site is not an official website of the SCA Inc. The views and opinions expressed herein are solely those of the site author. Reproduction of items from this website will be allowed for educational purposes only if credit is given to the author and the copier does not receive compensation for the reproduced works. To verify photographer credit check here. Thank you for viewing the Medieval Horse and Clothing site!