Home > Das Pherde Hall
Where can I go to enjoy the middle ages?
If you live in Taylor, Price and Lincoln Counties in Wisconsin, you are welcome to join us. Just send an email to Das Pferde Hall and we will let you know of upcoming opportunities in our area. Or you may contact Lord Grimr (Dennis Russell) at 715-905-0343.
"Das Pferde Hall"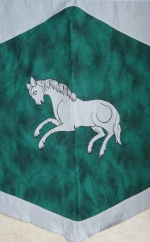 It means "hall of horses" in German. The heraldic symbol is a silver horse on a green field. The style of horse on our banner comes from the Codex Mannesse, a medieval book about heraldry and life in 13th century Germany.
Next Meeting:
June 15 at 5 PM: Susan's topics include herb gardens, feasts, and mead making. (Susan always comes up with something tastie!) The address isW7978 Perkinstown Ave, Medford, WI. Bring a dish to share, and a friend.
Other events in Northshield:
Poorman's Pennsic Friday August 9th thru Sunday August 11, 2013. Wisconsin Rapids, WI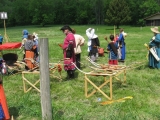 Last update: May 16, 2013. Please click your refresh button for the latest updates.